West Georgia Regional Libraries Digital Resources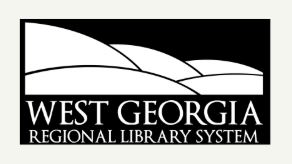 ---
Carroll County public libraries are ready to help you get back to school, no matter what that looks like for you and your family. We have digital programs for kids ages 0-18 listed on our website (wgrls.org). If you're missing our fantastic STEAM Engine programs, you can see Ms. Annie by searching for the West Georgia Regional Library System on YouTube.
You can order books through our state-wide PINES book catalog and pick them up at your local library, but if you'd rather read eBooks on your own device, we've got you covered! Our digital library is growing every day. Just download our CloudLibrary app and read anywhere.
Speaking of new apps, we've added Beanstack to our collection. Visit wgrls.beanstack.com to find reading and activity challenges. Win prizes and have fun as you complete our Back to School Challenge between August 4th and September 14th.
We've spent the summer building up our online connections, but we've always had a large collection of digital services that can help you research, keep up with the world, learn a new language, or just connect with other readers in your community. Find your local library on social media, and let us know how you are doing, and how we can serve you better in these unprecedented times. We're here to help you learn, grow, and connect.